Can highly recommend - we have used Ketsy Magic for the past couple of years for our Year 11 prom which has been a big hit. Already booked for 2024 & 2025
We booked Richard to do some pre- dinner magic for a small dinner party for a 60th Birthday celebration. Throughout the whole process Richard was charming and professional. His performance was exceptional - dazzling us with his amazing magic. He left us intrigued, amazed and in awe of his fantastic skills. He really got the evening off to a great start and I can't recommend him highly enough. Thank you Richard
Michael McCrow
2023-06-26
Just to say thank you for helping us create a great party ay Sopwell House on Saturday. We and our guests were blown away with your magic. Have a great summer. Mike and Shirley.
Richard came to us on Friday to help entertain some guests for an hour or so, and we are so glad we used him! He was absolutely brilliant! So many tricks that make you stand there gobsmacked because you have no idea how he did them! Very friendly, great entertainer, would highly recommend without hesitation!
Danielle O'Brien
2023-03-25
Richard attended my husbands 40th birthday party and he was brilliant! Amazing magic tricks and mind reading which everyone at the party absolutely loved! Can highly recommend using him. We can't wait to have another event where we can use him again!
Diana Katherine Nino-Garcia
2023-01-09
Richard was a great addition to the mood of the party. We got together for a Christmas do at work and Richard was pretty good keeping us entertained. He is pretty good, as close as you are to try to see how he does it, you only get awestruck
Richard was fantastic on our wedding day in April 2022, the guests loved it and we are so glad we booked! Thank you
Absolutely brilliant, that's why have used Richard twice! Firstly, at our wedding in 2018, and secondly at a surprise 60th birthday party for my brother while we were coming out of lockdown and there were restrictions in place. On both occasions Richard was awesome and the process seamless, from the booking process, to his communication, punctuality and his lovely welcoming charming personality. He ensured that he engaged with everyone or group and his performance was magical, excuse the pun! Our guests loved him at both functions and we had so many amazing comments about our choice of entertainment. I would highly recommend Richard and his incredible skill of working a room and making any event so memorable. Thank you
Incredible to see someone so good at captivating a crowd of people but also adding the personal touches. Magic performed was outstanding, full of charisma and good humour throughout.
Francesca Fear
2022-12-02
I first saw Richard at a friends wedding and thought he was so good I engaged him to perform his magic at our European company conference in Windsor. His style worked perfectly for our drinks and canape reception and he quietly went around groups amazing them with his close up tricks whilst allowing conversations to continue. He then joined us in the dining room for a some pre-dinner magic at the tables. There was lots of talk about the brilliant magician at breakfast the next morning! If I'm organising another event I would absolutely use him again. Thank you Richard!
"Richard is quite simply a sensational performer, charming, slick, dazzling… but he always has the upper hand, as he is truly made of magic: He is a living breathing MAGICIAN!!"
                                                                                                                                                                       Joanna Lumley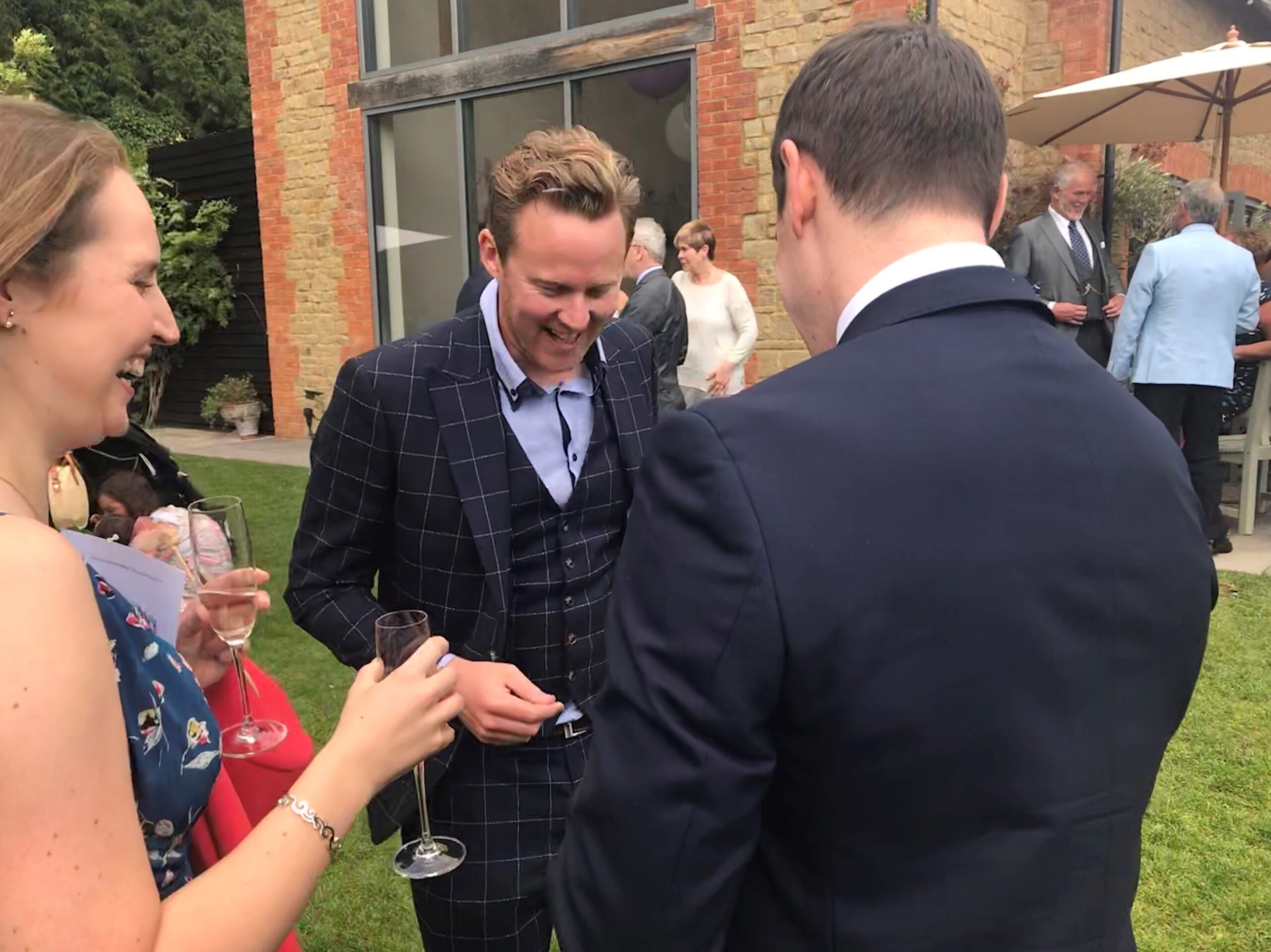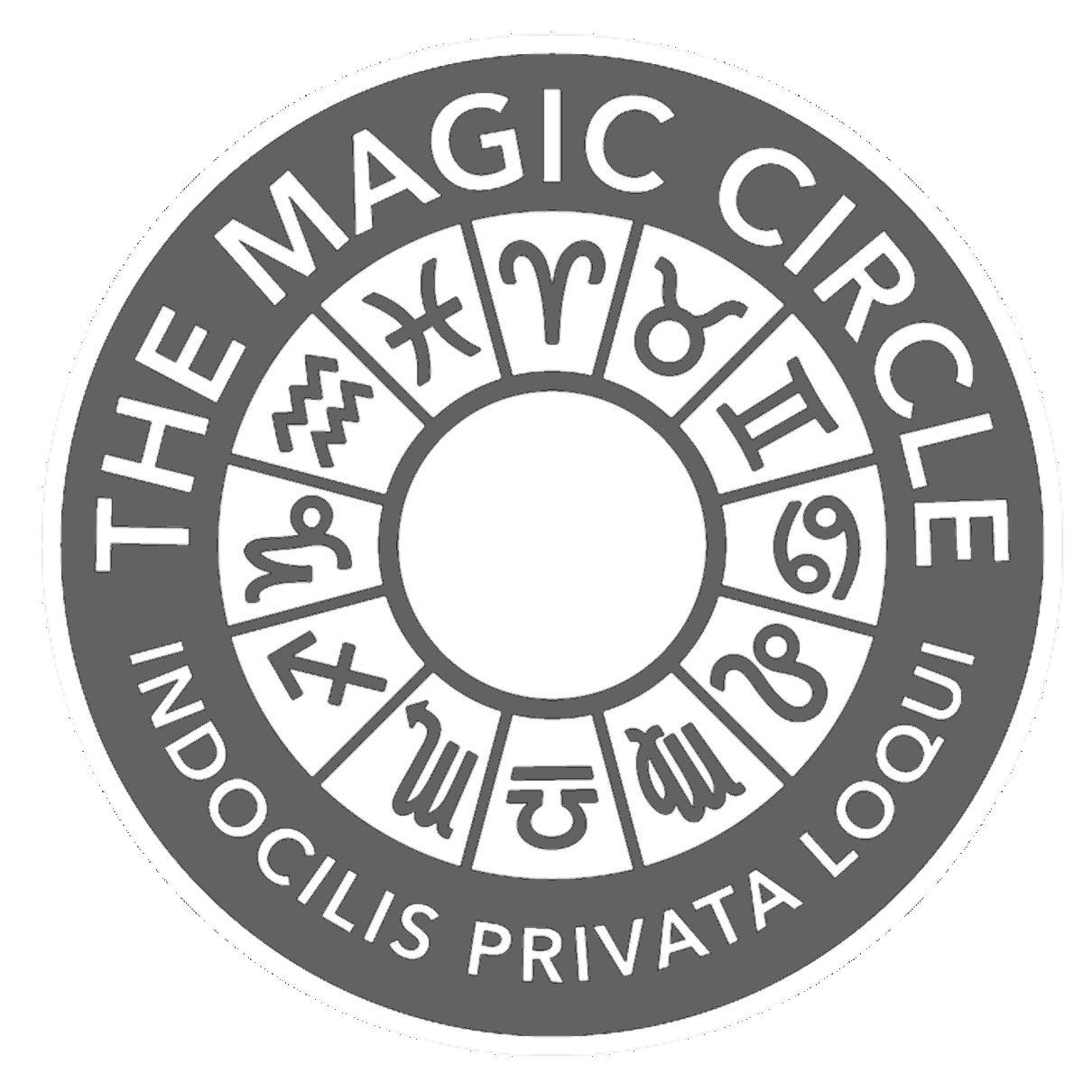 Surrey Magician For Hire
First hand reviews:
"Richard joined us for our evening wedding reception & was fantastic. Our guests loved him and are still talking about him now! A delight to have with us celebrating!"
"Afterwards there were so many positive comments to me about how good he was and what a lovely guy he was."
"I really don't think you could regret hiring him. As I say, he really was totally brilliant in his magic and lovely in his charm and his style."
"Richard gave us wonderful magic at our party. He really wowed the guests and left them wanting more. Makes me want to learn magic even more. How do they do it? Book Richard for your party. He'll leave you speechless!"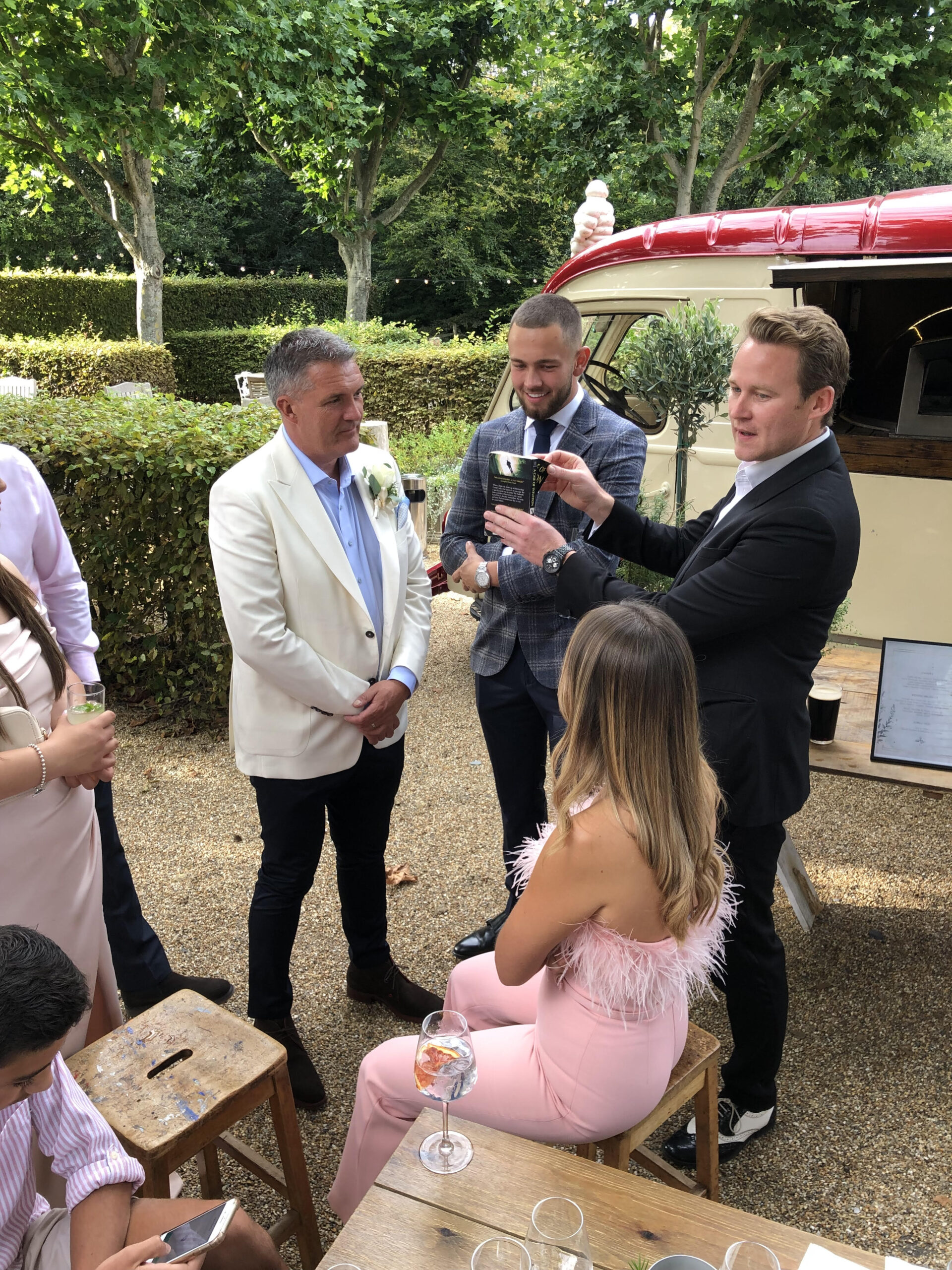 Hire Ketsymagic At Your Next Event
Performed for Google, Porcshe, Samsung, DHL, BP, McClaren and many more corporates

Did my first paid event in 2009

Member of the Magic Circle since 2011

Experienced, covered over 750 events (parties, weddings and corporate functions)

Not just a magician but a mindreader too (optional)

I am a professional, this is my full-time job

Strong experience at working at almost all Surrey Wedding venues:
"Richard is immediately engaging and get's people involved right from the time he steps through the door. If you want to turbo-charge your event I can't recommend Richard highly enough, it turned a really good party into an absolutely fantastic party!"
"We had KetsyMagic attend my 50th birthday bash and he made such an impression. His magic is truly mind blowing!! The feedback from our guests was amazing and a definite talking point!! I can't thank Richard enough for adding to my Party experience. I would have no hesitation in hiring again or giving recommendations"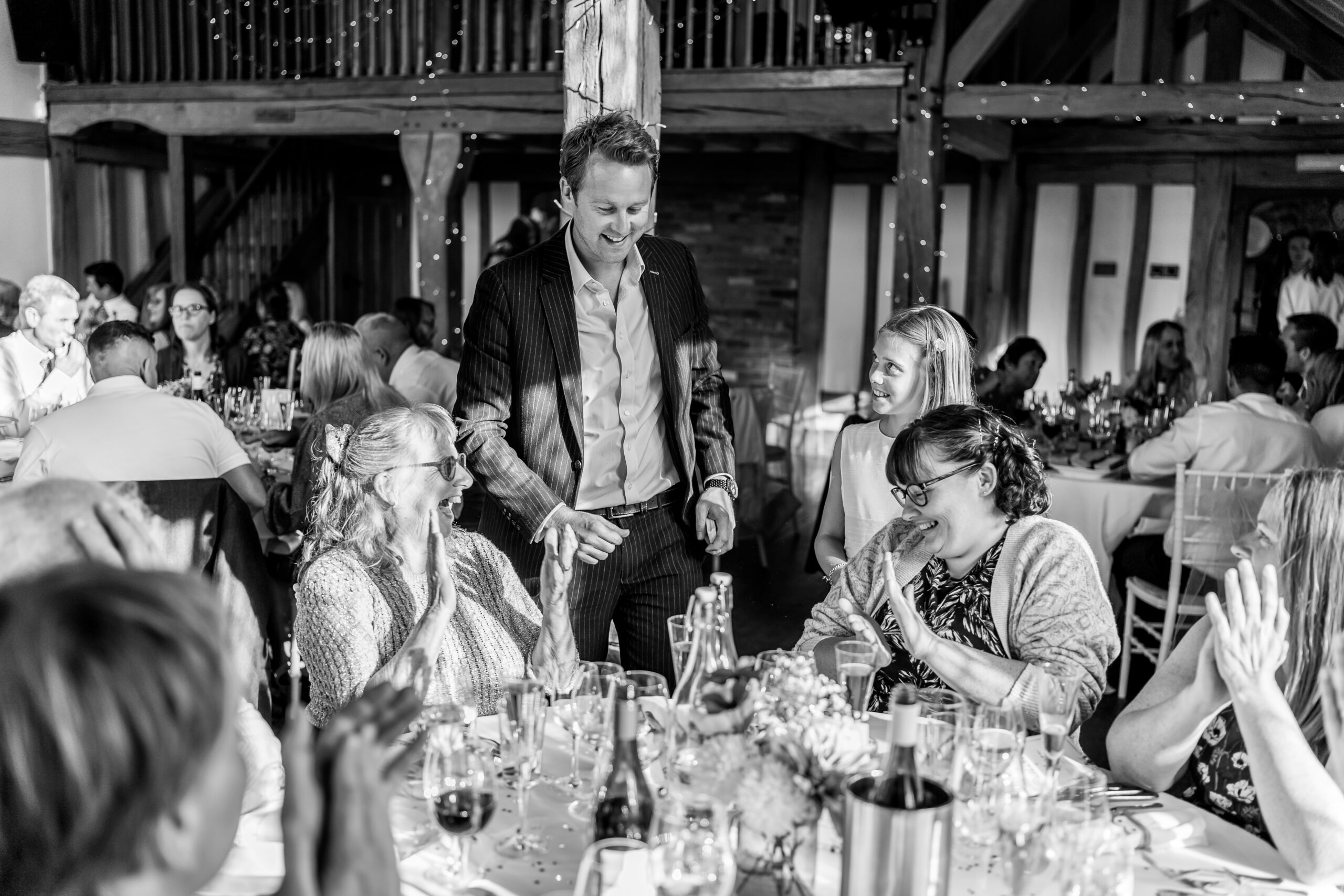 Surrey Magician For Weddings
Surrey Magician Richard Kettle is available to hire for your upcoming Wedding. Adding Ketsymagic to your special day guarantees a unique and memorable experience for your guests.
With over 15 years experience in performing magic & mind-reading, Richard offers a polished, truly amazing and well delivered service.
Hiring a Magician for your wedding can be difficult. Knowing that you are in safe hands with the complete process adds yet more value. Richard will guide you through how and when to best apply the wedding entertainment.
Richard regularly performs at weddings throughout Surrey, Berkshire, Hampshire, London and the South East. Wedding bookings usually take one of 3 sessions; Reception drinks, Wedding breakfast or the evening party. It is however possible to have magic entertainment in a combination of the above, something that Richard will personally advise on.
Having Richard Kettle aka Ketsymagic circulate amongst guests is as useful as it is memorable. Quietly approaching the right people at the right time is a skill that is applied by the very best Magicians. Richard will initially target groups that perhaps are not fully in the swing of the party atmosphere, picking up on body language to approach people in just the right way. The magic entertainment is inclusive and truly universal.
Surrey Magician For Parties
With an upcoming party, you will be thinking about entertainment options. Perhaps you have a few ideas but cannot decide on which to have?
Having a first-class Magician like Richard Kettle circulate amongst guests will add significant value. Approaching groups or individuals, Richard will non-intrusively approach your party guests and knock them over with unbelievable magic miracles.
Richard has a 100% record for delivering stunning magic & mind-reading services and receiving very positive reviews. Customers know that they are in safe hands with his assured yet non-intrusive approach to performing. It's peace of mind to know that your guests are in safe hands.
With over 15 years experience in performing magic & mind-reading at parties, Richard offers a polished, truly amazing and well delivered service. With a wide variety of close up miracles, the magic of "Ketsy Magic" packs an enormous punch. Jaws will drop and heads will be scratched, roars of disbelief will echo round the room and lasting memories created.
Richard has always prided himself on getting the tone right. People may have experienced an "over the top" character making magic about them showing off – The magic of Richard / Ketsy is instead more balanced, thoughtful and inclusive of each and every audience member. If you haven't seen him before, book the unequivocal Magic & Mind-reading services of Ketsy Magic at your next party!
Surrey Magician For Corporate Events
Richard Kettle is a high-end corporate event entertainer. With very strong experience in performing first-class magic at large company functions, Ketsymagic is the perfect option for your next corporate event.
Richard ensures that all guests or clients are treated to jaw dropping entertainment. Performing on groups at drink receptions, or around tables at your corporate function. Each and every guest that experiences the magic of Richard Kettle will comment in disbelief at what they have witnessed. This is a great talking point and also gets the party of with a swing. The magic includes everyone who wishes to see, regardless of age or stature withing the organisation.
Clients that book Ketsymagic will book him again and again each year as a result of the exemplary feedback received from clients and customers. Whether it's a formal affair or more relaxed setting, Richard is able to adapt to each surrounding and deliver breath taking close up magic and mind-reading.
Former clients include, Porsche, Microsoft, Google, Deloitte, Ferrari, Mclaren, Samsung, BP, Kier, Flour, AXA, Taylor Wimpey, VMware, John Lewis and many more. Richard Kettle builds and maintains lasting relationships with clients.
Contact Richard Kettle today to discuss how and when to apply his first-class corporate entertaining services at your future event.
Surrey Magician For Hire
Hiring the right Magician for your next event can be challenging. In a world full of different characters, it's hugely important to have full peace of mind in your decision to entertain guests. Finding the right cultural fit for your party guests, friends and family or clients needs to be backed up by an excellent reputation. People book Ketsymagic because of his ability to adapt to the tone of your event. Never intruding on conversation and politely approaching each group, Richard established the best moment(s) to introduce and entertain.
Whether it's a party, corporate event or wedding, have full confidence in the professional services of Magician and mind-reader Richard Kettle (Ketsymagic). Richard has over 15 years experience in performing magic professionally. He is adept at creating lasting memories with a huge variety of mind-bending and awe-inspiring effects, guaranteed to leave your guests bewildered.
As a professional, Richard is dedicated to his craft and continues to learn, build and develop new routines. In a bid to bend the minds of each and every audience, Ketsymagic reads audiences minds and leaves them truly speechless as he deciphers unattainable thoughts.
Richard is available for hire, please get in touch to discuss how and when to add KETSYMAGIC to your future event.
Why should I hire a Surrey Magician?
Hiring a magician can transform any event into an enchanting experience, captivating audiences with mystifying illusions and spellbinding performances. Magicians add an element of wonder and excitement, creating unforgettable memories that linger in the minds of attendees. Their skillful sleight of hand, mind-boggling tricks, and engaging interactions captivate diverse audiences, making them a versatile and unique entertainment choice. Magicians possess the ability to create a magical atmosphere, fostering a sense of awe and delight among guests. Whether it's a corporate event, wedding, or social gathering, a magician brings a touch of the extraordinary, elevating the overall ambiance and leaving a lasting impression. The element of surprise and mystery that magicians bring can break the monotony of traditional events, injecting a sense of fun and intrigue. Magicians are adept at tailoring their performances to suit various themes and occasions, ensuring a customized and immersive experience for the audience. Beyond mere entertainment, magicians contribute to the social dynamics of an event by sparking conversations, laughter, and shared moments of amazement. The presence of a magician adds a dynamic and interactive dimension to the event, encouraging audience participation and creating a lively atmosphere. In the age of digital entertainment, a live magic performance provides a refreshing and analog experience that captivates attention and fosters a sense of connection among attendees. In conclusion, hiring a magician injects an enchanting and memorable quality into any event, making it a worthwhile investment that leaves a lasting impression on guests and enhances the overall experience.
Thinking of having a Wedding Magician Surrey?
Imagine your guests being treated to an intimate and personalized magic performance right at their tables or during cocktail hours. A top close-up magician doesn't just perform tricks; they create moments of sheer wonder and joy. As your loved ones mingle and celebrate, the magician seamlessly integrates into the crowd, engaging small groups with mind-boggling illusions and sleight-of-hand tricks.
The magic happens right before their eyes, leaving everyone in awe and sparking lively conversations. It's an interactive and immersive experience that adds a unique and memorable touch to your wedding celebration. Your guests won't just witness magic; they'll become part of it, creating shared moments of excitement and laughter.
Moreover, a top close-up magician can tailor their performance to complement your wedding theme and atmosphere. Whether you prefer a sophisticated and elegant vibe or a more relaxed and playful ambiance, the magician can adapt their repertoire to suit your vision for the day.
In essence, the presence of a top close-up magician adds a magical layer to your wedding, creating enchanting memories that will be cherished by you and your guests for years to come. If you're looking to elevate the entertainment at your wedding and ensure a truly unforgettable experience, consider inviting a top close-up magician to weave their magic into your celebration.
Feel free to reach out if you have any questions or if you'd like further information. Wishing you a magical and joy-filled wedding day!
Corporate Entertaining with Surrey Magician Richard Kettle
When choosing entertainment for a corporate event, it's crucial to consider the preferences and demographics of the attendees, the nature of the event, and the overall atmosphere you want to create. Additionally, working with professional entertainers who understand the corporate context is essential for a seamless and successful experience.
Hiring a great magician for corporate events can offer a multitude of advantages, enhancing the overall experience for both attendees and organizers. Here are several key benefits:
Engagement and Interaction: Magicians excel at engaging audiences and creating interactive experiences. Their performances encourage participation, fostering a dynamic and lively atmosphere among attendees.
Memorable Entertainment: A skilled magician provides unique and memorable entertainment that stands out. The astonishment and wonder created by magic tricks leave a lasting impression on guests, making the event more memorable.
Ice Breaker and Networking: Magic acts as a natural ice breaker, initiating conversations among attendees. This is especially beneficial for corporate events where networking is a key component. The shared experience of witnessing magic facilitates connections among guests.
Versatility: Magicians can adapt their performances to suit various corporate settings and themes. Whether it's a formal awards ceremony, a casual networking event, or a product launch, a great magician can tailor their act to complement the occasion.
Brand Integration: Magicians can seamlessly incorporate corporate messaging or branding into their performances. This subtle integration reinforces key messages in a memorable and entertaining way, leaving a positive impression on the audience.
Positive Atmosphere: Magic adds an element of surprise and delight to the event, contributing to a positive and enjoyable atmosphere. This uplifts the mood of attendees and creates a more relaxed and enjoyable environment.
Customization: Professional magicians can customize their performances to align with specific corporate goals, messages, or themes. This level of personalization ensures that the magic seamlessly integrates into the overall event strategy.
Stress Relief and Relaxation: Corporate events can be intense, with schedules packed with meetings and presentations. A magician provides a welcomed break, offering a moment of relaxation and stress relief for attendees.
Magicians Surrey
Looking for Magicians in Surrey can be daunting if you don't have prior experience and can present a real challenge, with numerous websites of Surrey Magicians, who should you go for and what will they offer at your upcoming Wedding, party or corporate event?
Ask as many questions as you wish and ideally speak on the phone to establish the caliber of the all-important soft skills needed to deliver close up magic (and mind-reading). Ensure that you fully comfortable with their style of performance and that the Surrey Magician that you select for your next event is suitable for your guests. E.g. You don't want someone that plays heavily on innuendo in their style of performance for a family event – this style may have a place but do you really want the Magician in question being crude to great aunt Jennifer?